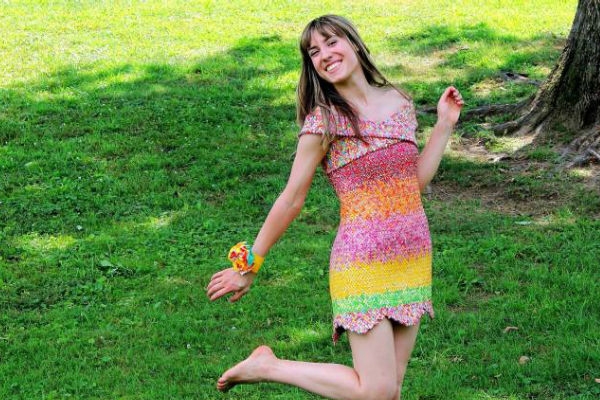 A woman in Pennsylvania, who is an artist and upcycler (recycles items by creating new tings out of them) has designed a dress using more than 10,000 Starburst candy wrappers given to her by her high school love-turned-husband.
Emily Seilhamer, a resident of Mount Joy Township posted the pictures of her dress last week on her Facebook page,  Artistry and Upcycling by Emily Seilhamer.
Seilhamer's husband, Malachi, gave her a pack of Starburst when they met first. He kept giving her the candies and once she told him that she wanted to make a dress. Then he started bringing her wrappers, which she divided by their bright colors.
"I've been saving Starburst wrappers diligently (with the help of friends and family) for 4 years to create this dress," Seilhamer wrote. "After enough were saved I organized them into colors, ironed them, folded them into links, and made candy wrapper chains."
Seilhamer said she then used elastic thread to sew the multi-colored wrapper links into fabric to create the elaborate dress.
The complete ensemble also features a pair of shoes covered in Starburst wrappers and a corsage made out of a Starburst bag.
Seilhamer said the project was inspired by the story of how she met her husband back when they were in high school.
"My husband and I met when he offered me a pack of Starburst a few years before the project started. As his favorite candy he began to save grocery bags full of wrappers for me," she said. "The dress had a nice spot next to the gift table at our wedding almost two years ago!"
Seilhamer also said that the dress was one of her earliest upcycling projects and inspired her to continue to pursue art.
"It's what started everything for me, yeah, because I do all sorts of upcycling and I paint a lot," she said.
Her hard work eventually earned Seilhamer a shout-out from Starburst's official Twitter account.
"Shout-out to Emily Seilhamer for making the most delicious looking dress of all time!" Starburst wrote.
AMandeep