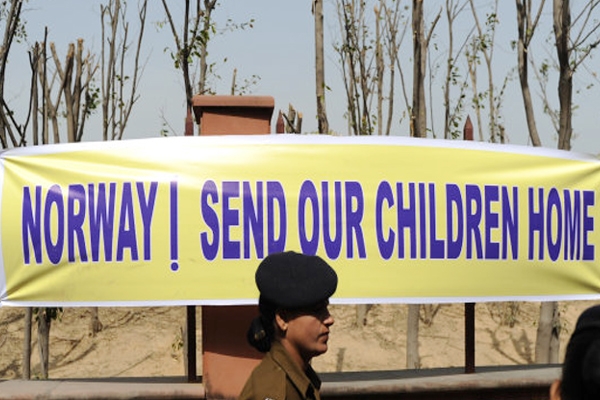 The Norwegian authorities has separated a five-year-old child from his NRI parents. The officials accused them of beating him up.
The Indian Express reported, the boy's father, Anil Kumar, said from Oslo, that, "The Child Welfare Department of Norway took custody of my five-and-a-half-year-old son from his kindergarten school on December 13, at 9.30 am. They did not give us prior information."
"The same day, at 10 am, four policemen came to my house, took my wife into custody, and interrogated her from 11.15 am to 2.45 pm."
Kumar has served as vice-president of the Overseas Friends of the BJP in Oslo and owns an Indian restaurant in Oslo. He said that, the boy has been sent to a children's welfare home in Hamar, about 150 km away from Oslo. He was migrated from Punjab to Norway about 26 years ago.
"When we asked for the reason, it was conveyed to us that we had beaten up our son," said Kumar.
"They interrogated our child for about one-and-a-half hours. They showed us some of those videos. The video shows that when asked whether his parents have loud discussions with each other and if they beat him up, his answer was no. When they asked him whether his grandfather had beaten him up, he became very angry," Kumar added.
Kumar and his wife, Gurvinderjit Kaur,  met their son at the welfare home. "He was wearing the same clothes and undergarments in which he had gone to school a week ago. He is not receiving proper care from the child welfare department. He hugged us and cried a lot, he is our only child, why would we torture him," he said.
"He is an active child, and is very fussy about eating. He likes to eat Indian food, he is being given bread and porridge, and has not been eating well," he said. "I have never even raised my voice at him, how can I beat him up? His mother spent sleepless nights taking care of him as he is an asthma patient. How can we physically hurt our beloved son," said Kumar.
"We are very disturbed. His 80-year-old grandfather is a heart patient and has not eaten properly. We are very scared. We are not able to concentrate on anything. They have snatched away our son from us. We can´t live without him. We are shattered. We are crying day and night," kumar said.
"We met the child welfare officials twice, on December 14 and 16, and they haven't been able to produce any evidence. They said they received a complaint from a person. We are not sure who registered this baseless complaint against us. By doing this, he or she has ruined our family life," he said.
Kumar said, while referring to earlier cases involving NRI parents in 2011 and 2012, that, "Unlike those cases, where the children had burn marks and visible bruises, there is nothing of that sort… We are law abiding peaceful citizens of Norway, with deep-rooted Indian values. We hope the Indian government will help us."
The Norwegian embassy in Delhi, said that, they were ascertaining the facts from the officials in Oslo. Meanwhile,  former convenor of OFBJP and BJP leader Vijay Jolly, met Norwegian embassy authorities and raised the issue.
Trump thanks Indian-Americans for presidential victory!
Nandini