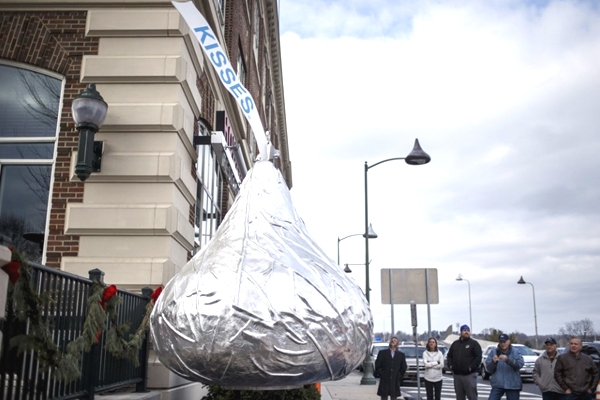 A Replica of Hershey kiss is ready for New Year celebration in Pennsylvania.  Hershey New Year's Eve Celebration Committee volunteers test raise a 300 pound aluminum and fiberglass Hershey's Kiss Wednesday afternoon.
The Hershey Kiss will be raised at midnight on New Year's Eve at the corner of Park and Chocolate avenues on the square in Hershey.
Hershey New Year's Eve offers fun for the entire family, beginning from 1st January 11:00 AM at The Hershey Story, The Museum on Chocolate Avenue. Kids can make some noise with the Hershey product characters and bubble wrap stomps at 11:00 a.m., 1:00 p.m., and 3:00 p.m. Activities take place on the patio. Bubble wrap stomps are free. Before the main stage lights up, Jim Rule will perform kids programming on the Hershey Story's front patio from 8:00 - 9:30 p.m.  He will be joined by the Hershey's candy characters at 9:00 p.m. and will conclude his program with a bubble wrap stomp.
Outdoor games will be conducted from 7 p.m to 10 p.m. at Hershey First United Methodist Church and also concerts will be held at 7, 8 and 9 p.m. in the sanctuary, and hot beverages and cookies will be available in the social hall.
In the square at 9 p.m. concert by All Jacked Up, a local rock 'n' roll cover band, which will be followed by the headliner Jacob White sides at 10:40 p.m.. The concert will be followed by the raising of the giant Hershey's Kiss replica at midnight and fireworks. Food and non-alcoholic beverages will be available for purchase.
Replica Hershey Kiss Facts
- The replica of Hershey's Kiss is raised three stories at the historic Hershey Press Building.
- An aluminum "skeleton" in the famous shape of a Hershey's Kiss was made from 35 laser cut aluminum components, consisting of 24 Vertical ribs, and 8 horizontal ones along with support pieces. The skeleton has 384 welded joints.
- 192 square feet of wire mesh was then tied onto the skeleton over two days. 15 gallons of fiberglass resin was applied next to create the folds and wrinkles of a wrapped Hershey's Kiss.
- After the Replica was gel coated and sanded, it was covered by adhering, 500 lineal feet of commercial aluminum foil with an industrial adhesive. Then, the entire Hershey Kiss was covered with three coats of a polyurethane clear coating for protection and to seal the edges of the foil.   
- The replica of stands about 7 feet high and 80 inches across and weights 300 pounds.
- The replica would not be complete without the famous plume that resides on top and takes the overall height to 12'.