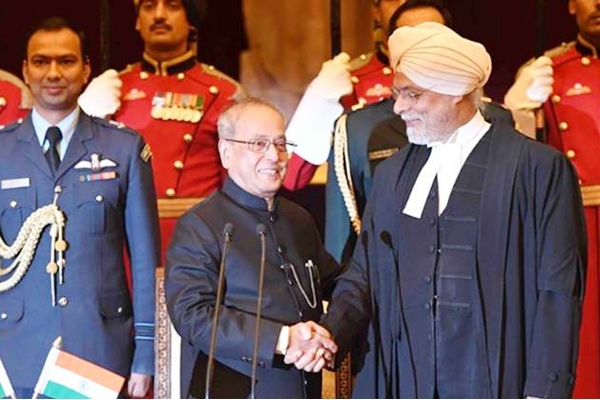 Justice Jagdish Singh Khehar has sworn in as the Chief Justice of India (CJI) on January 4. Khehar has been administered the oath of office by President Pranab Mukherjee at Rashtrapati Bhavan in New Delhi. He succeeded Justice Tirath Singh Thakur. Khehar has become the 44th CJI and also the first Sikh to hold the apex office. He is going to have a tenure of little over seven months.
Justice Khehar, son of a Kenyan immigrant,  came to India with his family, when his father had decided to return to his family roots. Still in school at that time, Khekar showed great capacity for academia and later he was awarded gold-medal from Panjab University. As lawyer, his moment under the spot light came quiet early in his career, when he had put up a strong defence for Justice V Ramaswami, a Judge of the Supreme Court of India, who had been accused of corruption as the Chief Justice of Punjab and Haryana High Court.
The proceeding against Jusitce Ramaswami had come to be the independent India's first impeachment motion against a judge.
Justice Khekar, known for his unflinching stand has many rough brushes within the Judicial establishment, even if it has meant impeachment of a colleague. As the Chief Justice of Uttarakhand High Court, Justice Khehar had been appointed as a member of the three jurists committee in 2010. This committee had been set up to examine corruption charges against Chief Justice of Karnataka High Court, P D Dinakaran, who had been facing impeachment proceedings.
Donald Trump Will Not Tolerate Dual Role Of India's Neighbor's
Later, as Chief Justice of Karnataka High Court, Justice Khehar had confronted a sitting in which HC judge was accused of sexual harassment by a lady civil judge, which had resulted in his resignation as well.
However, Khehar's single-minded commitment to justice had been exemplified best in his lambasting of the government in the high profile 2G scam case, where he had warned the government for its inadequate auctioning polices, saying that "no part of the natural resource can be dissipated as a matter of largess, charity, donation or endowment, for private exploitation. Each bit of natural resource expended must bring back a reciprocal consideration."
Justice Khehar was the author of the judgment by a five-judge constitution bench which held "unconstitutional" the Constitution's 99th amendment that had paved the way for the National Judicial Appointment Commission and the National Judicial Appointment Commission Act, 2014.
By Prakriti Neogi