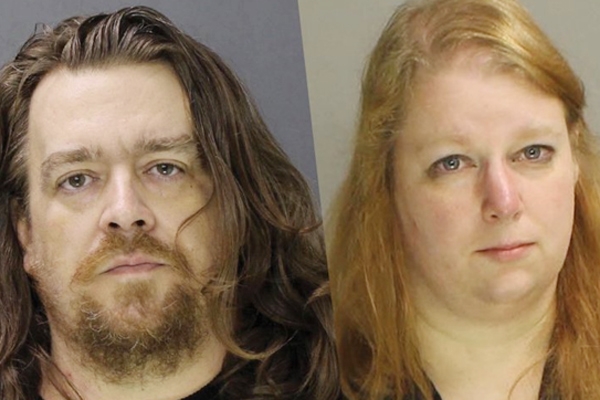 Police authorities said, a 14 year old girl from Pennsylvania was raped and dismembered by her adoptive mother and her boyfriend as a part of disturbed 'fantasy'. Later the couple kept collecting the teenager's Social Security payments for months, profiting from her death.
In July 14 year old Grace Packer went missing from her home in Abington, Pennsylvania. Her adoptive mother, Sara packer told the police officers that Grace has stolen 300 dollars and ran away, but the story of adoptive mother did not not add up to the officers.
After police found Grace's head and torso in near by wood on the day of Halloween, detectives narrowed their focus on Sara Packer.
On 30 December 2016 Sara and her boyfriend overdosed pills as a part of their failed suicide pact, while recovering Sara's boyfriend allegedly told to the hospital workers that Sara and himself committed the murder together.
Jacob Sullivan is 44 years old, and Sarah Packer is 41 years old, both were arrested upon their discharge from the hospital Saturday on a litany of charges which included homicide, rape, and abuse of a corpse. They also said that they have planned the murder for nearly a year.
On 8 July 2016 evening, the couple finally carried out the plot, Grace was falling asleep in the back of their car while returning back to their home, once they arrived, the couple took Grace to the third floor attic, they allegedly beat her there and then Sullivan raped her while Sara kept watching.
The couple allegedly attempted to murder the child. According to Sara credit card records she purchased multiple medications at a local medical store, after Sullivans's assault, Sara fed the medicines to Grace by saying, the medicines would ease the pain of the attack. When Grace vomited the pills, the couple made her take them again.
The couple left the attic assuming Grace was dead, but when they returned the attic at 3 in the morning they found her alive and conscious. Sullivan allegedly strangled Grace to death by his hands.
Later Sara complained to police on 11 July 2017, two days after the incident, Sara said Grace had fled away from home, stealing 300$ and she also explained that Grace was a troubled child with behavioral disorders.
Sullivan and Sara have been charged with murder and the investigation is still going on.
Homless Denver man finds Support in Freezing temperature
AMandeep