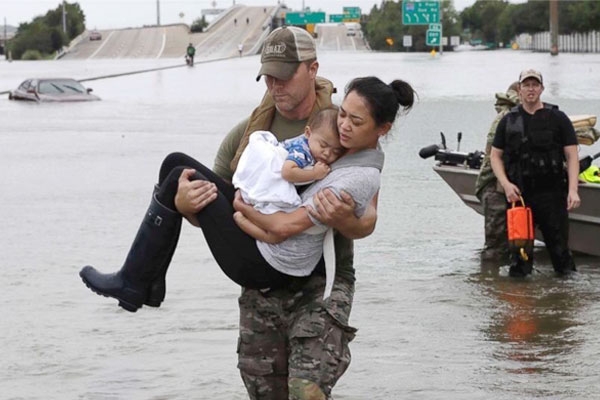 Harvey made a landfall as a Category 4 hurricane at Corpus Christi in TX on Friday night. The strongest one to hit the US in over a decade, this hurricane has already submerged many cities of TX under flood water. This catastrophic storm has brought the life to a standstill in many parts Rockport, Corpus Christi and Houston. Despite preparedness and warnings to leave the homes, it has still battered lives and homes along its path and is believed to continue wrecking havoc for the coming days with flash floods and tornadoes in addition to heavy downpour.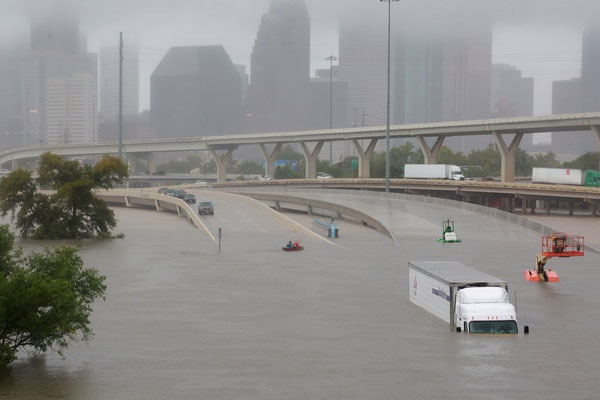 Harvey barreled towards TX with over 22 inches of rain in the single day causing devastating effects on life and property. It made a landfall on Aug 25th at 10pm when eye of the storm hitting near Corpus Christi along the Gulf Coastline. It weakened in strength to a Category 3 hurricane and eventually into a tropical storm the next day and continued to cause heavy downpour and strong winds over 150mph.

Military has begun release of water earlier than planned, due to the catastrophic impacts. The two major reservoirs around Houston Addicks and Barker were opened hours ahead of plans which means more flooding in its path and temporary water rise along the Buffalo Bayou which flows through central Houston. The residents are informed to monitor water levels and evacuate in case of danger.

Shelters are opened all along the affected TX counties and inflatables, beach toys and air mattresses were used to make way through flood water for safety. The catastrophe has forced the Houston school district to shut its schools all through the week and normalcy may take a while to resume.
Another helicopter rescue here in Houston. pic.twitter.com/c7ZcFJywgB

— Alan Blinder (@alanblinder) August 27, 2017

A Flash flood emergency is in effect and National Weather Service is advising residents to boycott all travel plans. As the devastating situation is going to last for at least 4-5 more days. Harvey battered through Rockport hitting it the hardest along TX Coastline killing one and injuring several over a dozen.

President Trump's tweets with massive encouragement to the staff and forces working towards bringing safety to those affected; has stormed quite an uproar. The defining moments from his series of tweets are believed to undergo test of time in this crucial time of his presidency.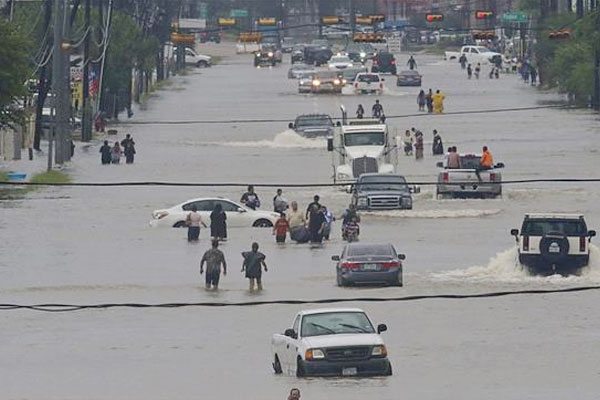 Dire warnings of tornadoes, torrential rains and flash floods in several areas to continue all across south-west TX in the coming few days. Mayhem all across Rockport and downtown Houston and metro area can been seen with these submerged cars, uprooted trees and homes, collapsing walls and roofs and over 300k without power. The impacts can be seen in the sensational picture as a dog carries a bag full of pet food making its way amid the widespread devastation.

Facebook has activated its safety check for those affected by Harvey and in need all along the Texas, also informing the friends and family about the safety of their beloved. This is helping those affected by Harvey and their families.

Though the worst storm surge is gone by Saturday evening but coastal flooding along with more downpours continues to cause havoc on residents and animals around. And over 30 inches more rainfall is expected to batter through Houston and Corpus Christi in comings days. Harvey has turned into a severely damaging and deadly inland event now.

By Minu Manisha